Settings Properties
Properties can be set by:
java code (highest precedence)
system property
property file
environment variable (lowest precedence)
The order of precedence means that properties set by java code overrides those set by system properties which overrides property file properties which overrides environment variables.
Some properties need to be set before MockServer starts because they are only read at start-up, for example, nioEventLoopThreadCount.
Other values are read continuously and so can be changed at any time, for example, logLevel.
Programmatic Properties
There are two ways to set properties programmatically, as follows:
org.mockserver.configuration.ConfigurationProperties

is JVM global
exposes static methods
stores property values in system properties

org.mockserver.configuration.Configuration

is unique to each MockServer instance
can be passed to ClientAndServer, MockServer and MockServerClient classes
only supports instance methods
defaults to ConfigurationProperties for unset values
Property File
The property file defaults to filename mockserver.properties in the current working directory of MockServer.
This location of the property file can be changed by setting the mockserver.propertyFile system property or MOCKSERVER_PROPERTY_FILE environment property, for example:
-Dmockserver.propertyFile=/config/mockserver.properties
A full example / template properties file can be found in github
An limited properties file example is, as follows:
###############################
# MockServer & Proxy Settings #
###############################

# Socket & Port Settings

# socket timeout in milliseconds (default 120000)
mockserver.maxSocketTimeout=120000

# Certificate Generation

# dynamically generated CA key pair (if they don't already exist in specified directory)
mockserver.dynamicallyCreateCertificateAuthorityCertificate=true
# save dynamically generated CA key pair in working directory
mockserver.directoryToSaveDynamicSSLCertificate=.
# certificate domain name (default "localhost")
mockserver.sslCertificateDomainName=localhost
# comma separated list of ip addresses for Subject Alternative Name domain names (default empty list)
mockserver.sslSubjectAlternativeNameDomains=www.example.com,www.another.com
# comma separated list of ip addresses for Subject Alternative Name ips (default empty list)
mockserver.sslSubjectAlternativeNameIps=127.0.0.1

# CORS

# enable CORS for MockServer REST API
mockserver.enableCORSForAPI=true
# enable CORS for all responses
mockserver.enableCORSForAllResponses=true
Configuration Properties
Logging & Metrics Configuration:
Memory Usage Configuration:
Scalability Configuration:
Socket Configuration:
Http Request Parsing Configuration:
CORS Configuration:
Initialization & Persistence Configuration:
Verification Configuration:
Proxying Configuration:
Liveness Configuration:
Control Plane Authentication Configuration:
TLS Configuration:
The following diagram shows where TLS/mTLS configuration settings are used: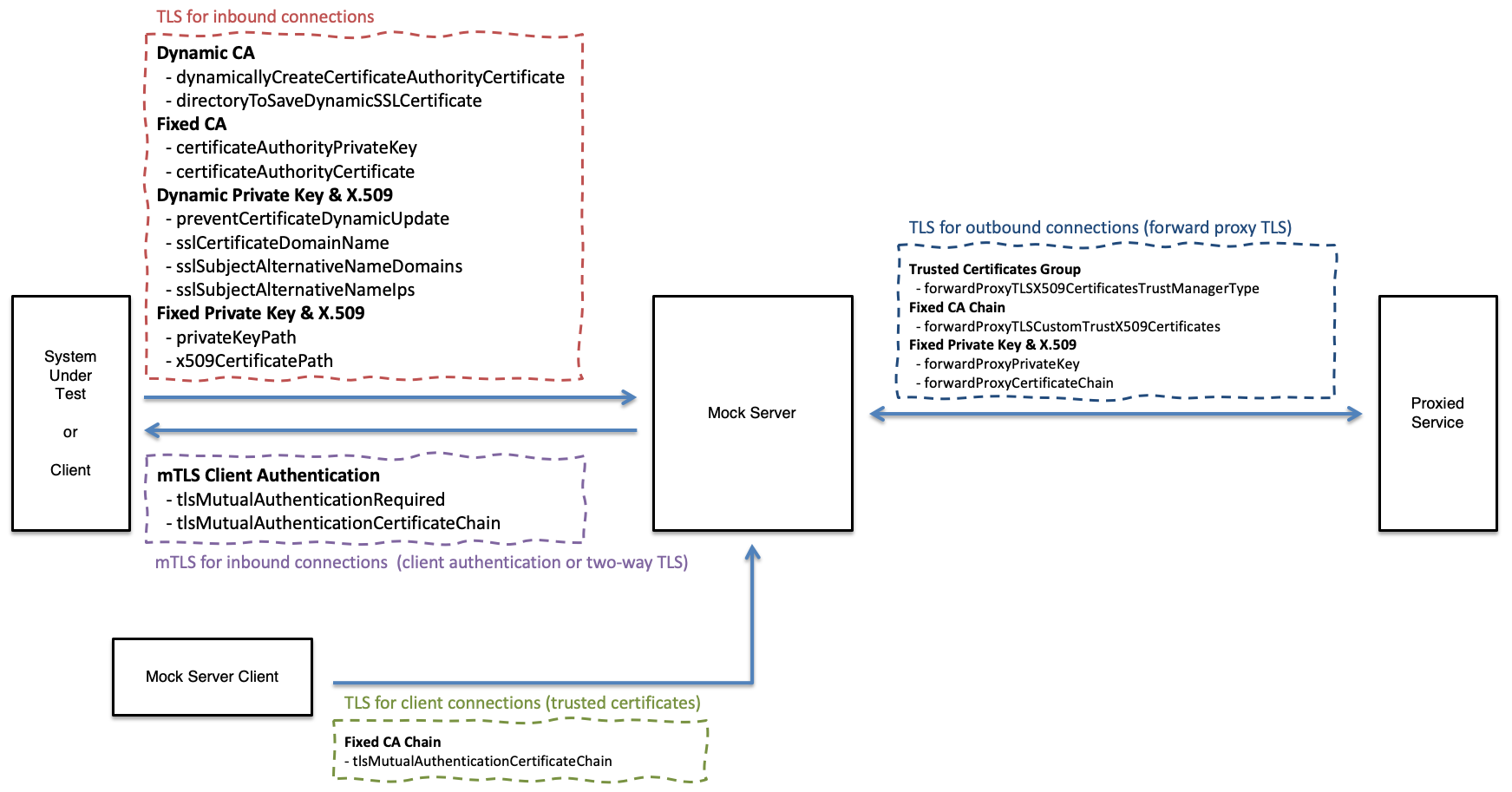 Inbound TLS (for Received Requests)
Dynamic Inbound Certificate Authority X.509 & Private Key
Dynamic Inbound Private Key & X.509
Fixed (i.e. Custom) Inbound Certificate Authority X.509 & Private Key
Fixed (i.e. Custom) Inbound Private Key & X.509
Inbound mTLS Client Authentication (for Received Requests)
Outbound Client TLS/mTLS (for Forwarded or Proxied Requests)
Fixed (i.e. Custom) Outbound CA X.509, Private Key & X.509
MockServer Client